The 360º Virtual Scenario Method
The 360º Virtual Scenario research program aims to remedy some of the defects of the traditional scenario (or "vignette") method by employing immersive 360º video. This virtual reality (VR) method is based on the assump­tion that the commonly used written scenarios are unlikely to capture the more visceral and emotional aspects involved in real-world offending, which commonly occurs during "hot" and altered states of mind. Additionally, the 10–15 line narrative of the standard scenario is unlikely adequately to reflect the complex reality of real-life decision-making situations or realistically to incorporate important nuances of social experience. Rather than asking participants to imagine themselves in a specific situation on the basis of a short narrative, a VR scenario perceptually immerses them in it. Our findings demonstrate that the increased feelings of being "present" in the situation and the perceived realism of the VR scenario compared to the written counterpart indeed trigger stronger emotional experiences that influence subsequent aggressive intentions.
| Research output: | Scientific articles |
| --- | --- |
| Project language: | English |
| Photo: | © Helene Peters |
Using of 360º Vir­tu­al Sce­na­ri­os to Stu­dy Ag­gres­si­ve Be­ha­vi­or in a Bar­room Set­ting
The ef­fect of emo­ti­ons on de­ci­si­on ma­king tran­scends dai­ly li­fe. Alt­hough so­me emo­ti­ons li­ke fe­ar can shar­pen sen­ses and fo­cus de­ci­si­ons, other af­fec­ti­ve states li­ke an­ger can bi­as jud­ge­ments and ma­ke peo­ple be­ha­ve in a way that is not in our self-in­te­rest. This is be­cau­se emo­tio­nal ex­pe­ri­ences pro­du­ce in­ten­se mo­ti­va­ti­ons to­wards goal-ori­en­ted be­ha­vi­or. Gro­wing re­se­arch sug­gests that li­ke other ris­ky be­ha­viors, emo­tio­nal ex­pe­ri­ences al­so in­flu­ence the de­ci­si­on to en­ga­ge in cri­me. Ho­we­ver, be­cau­se cri­me can­not ea­si­ly be ex­ami­ned in la­bo­ra­to­ry or re­al-world set­tings (for ethi­cal and sa­fe­ty con­cerns), this re­se­arch has be­en li­mi­ted to the use of tra­di­tio­nal sur­vey me­tho­do­lo­gy, which can­not cap­ture the de­gree to which a po­ten­ti­al cri­mi­nal ac­tual­ly ex­pe­ri­ences an emo­tio­nal state wi­thin a cri­mi­nal op­por­tu­ni­ty. In­s­tead, VR Sce­na­ri­os im­mer­se stu­dy par­ti­ci­pants in en­vi­ron­ments that mo­re clo­se­ly re­flect "re­al-world" set­tings whe­re cri­mes oc­cur. The fo­cus of this pro­ject to is to fur­ther ex­plo­re the in­flu­ence of two cri­mi­no­ge­nic emo­ti­ons: an­ger and se­xu­al arou­sal. To test the ef­fect of the­se af­fec­ti­ve states on cri­me de­ci­si­ons we are de­ve­lo­ping two vir­tu­al sce­na­ri­os that pre­sent the oppor­tu­ni­ty to en­ga­ge in a bar fight or in­ter­ve­ne with se­xu­al assault. Our goal is to as­sess whe­ther ele­ments of the scena­rio in­du­ce emo­tio­nal re­spon­ses in our stu­dy par­ti­ci­pants that sub­se­quent­ly sha­pe be­ha­vi­oral in­ten­ti­ons to act aggres­si­ve­ly.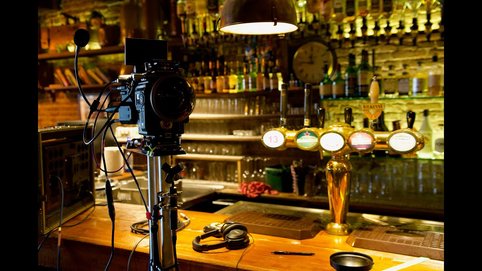 Virtual Pub Visit for Research Purposes
Film shows how scientists from Freiburg create virtual world to study the influence of emotions on criminal action
A Study of Virtual Bar Fights
Guest: Dr. Tim Barnum • 09/2021
In this episode Christopher Murphy sits down with Timothy Barnum to talk about good old-fashioned bar fights, with a particular empha­sis on the emotions and heated decisions that can lead to them erupting. Tim explains how an immersive, virtual-reality scenario using 360-degree video is currently being used to better understand what really goes on in our heads during such intense decision-making encounters.