"Can Virtual Reality help reduce real-life crime?"
US magazine publishes field report on MAXLab
"MAXLab Freiburg is at the forefront of a movement to use VR technology to understand, deter, and prevent crime", writes US journalist Jacob Kushner in an article in the California based Stanford Social Innovation Review.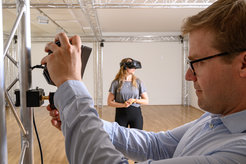 The article describes the ambitions of MAXLab Freiburg, the virtual reality (VR) arm of the Department of Criminology at the Max Planck Institute for the Study of Crime, Security and Law in Freiburg. The text describes several research projects, including:
FutureU (about how a VR program "ages" its participants to make them more aware of the impact that present actions and decisions can have on their future self),
Virtual Burglary (which aims to better understand the behavior of burglars and develop possible prevention measures that will "make the burglars' job harder" in the future) and

A

Virtual Night Out (in this study, virtual "pub" scenarios are used to investigate whether certain emotions trigger reactions in the study participants and whether these emotions subsequently lead them to commit aggressive acts).
Read the full article here (free access until 13 January): https://ssir.org/articles/entry/can_virtual_real­ity_re­duce_crime.
---
Jacob Kushner – an international freelance journalist who has pub­lished for many years in renowned international media (The Atlantic, The New Yorker, The New York Times, The Guardian) – had spent two months researching and working in the Max Planck Institute as a fellow of the so-called "Journalist in Residence Fellowship" last summer.
Stanford Social Innovation Review (SSIR) is an award-winning magazine that covers cross-sector solutions to global problems. SSIR's mission is "to advance, educate, and inspire the field of social innovation by seeking out, cultivating, and disseminating the best in research- and practice-based knowledge."