Quantifying Surveillance
"Digital Dialogue" with Ralf Poscher
Ever since the German Federal Consti­tu­tional Court made clear in 2010 that there must be limits to surveillance – including government surveillance –, the scientific community has been faced with a difficult task: How can surveillance be measured, and can it be measured quantitatively? Ralf Poscher, director at the Max Planck Institute, is spearheading a research project that aims to answer precisely this question. Using the possibilities offered by digitization, the state' surveil­lance activities will be recorded in terms of numbers. This so-called surveillance barometer could help make government surveillance measures transparent in the long term.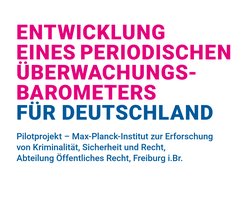 In its new podcast "Digitalgespräch," the Center Responsible Digitality (Zentrum Verantwortungsbewusste Digitalisierung – ZEVEDI) hosts Ralf Poscher, who presents his research project "Development of a periodic surveillance barometer for Germany" in detail. ZEVEDI is a research and competence network of Hessian universities that aims to combine their scientific expertise on society's digital transfor­mation and to transfer the knowledge gained into the economy, into society, and into politics.
("Quantifying Surveillance") • ZEVEDI digital dialogue with Professor Ralf Poscher
---
Publication:
Entwicklung eines periodischen Überwachungsbarometers für Deutschland: Pilotprojekt – Max-Planck-Institut zur Erforschung von Kriminalität, Sicherheit und Recht, Abteilung Öffentliches Recht, Freiburg i.Br. Potsdam-Babelsberg: Friedrich-Naumann-Stiftung für die Freiheit.
, & (2021).