William Stern Award for Isabel Thielmann
Scientist honored for research in personality psychology
Max Planck researcher Isabel Thielmann from Freiburg is the recipient of the William Stern Award. The prize is awarded to outstanding young researchers conducting research in the field of differential and personality psychology.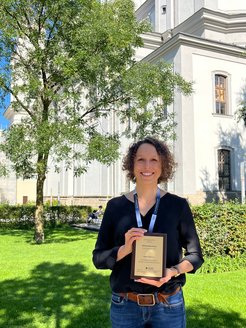 Isabel Thielmann has been awarded the William Stern Award for her scientific research. The prize was awarded by the expert committee for differential psychology, personality psychology, and diagnostics of the German Psychological Society (DGPs). The psychologist, who holds a doctorate, was honored at a workshop held by the section on 25 September in Salzburg.
The distinction is presented every two years to rising scholars who have completed their doctorate between two and ten years ago and who do not yet hold a tenured professorship. Researchers are recognized whose scientific work is meaningful, innovative, and creative. In its decision, the jury also takes into consideration the researchers' commitment beyond the conventional publication of academic articles, as proven by valuable contributions to conferences/workshops, the mentoring of junior researchers, volunteer work, and excellent science communication. The prize is endowed with €250.
Isabel Thielmann joined the Department of Criminology at the Max Planck Institute for the Study of Crime, Security and Law in 2022. She holds a Ph.D. in psychology and heads the independent research group "Personality, Identity, and Crime" at the Institute.