MAXLab Freiburg
Max Planck Institute opens criminological virtual reality research lab in Freiburg city center
The Max Planck Institute for the Study of Crime, Security and Law in Freiburg has opened a criminological re­search laboratory in Freiburg's city center. In MAXLab Freiburg, research studies and experiments are conducted with virtual reality and other novel technologies. This is the first independent research lab to conduct this type of criminological research using virtual reality.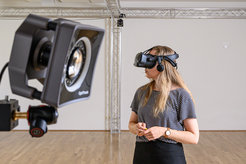 "We are placing more emphasis on experimental research in our de­part­ment of Criminology," explains Jean-Louis van Gelder, head of the Department of Criminology at the Max Planck Institute and founder of MAXLab Freiburg. The con­cern of empirical criminology, he says, is to find out more about how would be offenders make decisions and de­ci­sion-making processes that ensue during the commission of a crime.
Traditional research methods typically ask people whether they would commit a crime without providing relevant contextual information. "Re­search shows people are not good at predicting their future behav­ior without relevant information," explains the psychology professor. That is why the Freiburg researchers are relying on new technologies such as virtual reality (VR). With the help of VR headsets, research participants can be placed in virtual environments designed to reflect real-world opportunities to com­mit crime. This allows researchers to more closely observe how people evaluate certain situations and make crime decisions.
Current projects
1. Virtual Burglary – studies with responsive technology on the behavior of burglars
The Virtual Burglary research project uses virtual environments of residential areas to study burglar behavior. The spe­cial feature: The study is conducted in prisons – by convicted burglars. These "experts" explore the virtual residential area as if they were about to commit a burglary. In the process, they encounter various deterring factors (lighting, noises, etc.). The aim of the study is to measure how these types of situational factors influence burglars' decisions to commit burglary in that area. Eye-tracking data and spatial patterns of participants are used to assess whether burglars are aware and sensitive to these deterrent factors.
The aim is to better understand burglars' decision-making processes and behavior in order to improve prevention policy.
2. FutureU – How looking into one's own future can counteract criminal behavior
The FutureU project aims to teach at risk youth to consider future consequences of their behavior when making deci­sions. By thinking about the future consequences of their actions, the researchers are hopeful that participants will make better decisions in the present, thus refraining from criminal involvement.
In this study, researchers use virtual reality and smart phone applications to allow at risk youth to interact with a version of themselves 10 years in the future, i.e., their "future self". The study investigates whether the interactions with their future self can stimulate forward thinking about the consequences of their behavior in the present.
3. A Virtual Night Out – Study of decision-making in a real-life environment
This project investigates the influence emotions have on our decisions. The researchers investigate how different emo­tions, such as anger, fear, and excitement alter decisions to engage in crime and violence.
The researchers use 360° virtual technology to place test participants in a realistic barroom setting. Participants are con­fronted with different scenarios in the bar designed to stimulate different emotional experiences such as being in­sulted by a stranger or witnessing a girl being harassed. This allows the researchers to explore how different emotions alter participant's decision-making and willingness to engage in acts of violence.
Research results important for police and justice
"We believe that you can only really understand how people react in certain situations if you put them in those situa­tions," explains Jean-Louis van Gelder. "By using virtual reality goggles, eye-tracking technology and recording move­ment patterns, we can analyze and understand much better how criminal behavior occurs."
The results of the studies will provide new insights into crime prevention strategies with the goal of reducing the harmful consequences of crime. The research results have potential to inform police and judiciary training and further aid in the development of new crime prevention strategies and policy.

Press photos are available at: owncloud.gwdg.de/index.php/s/4tdO0eojIHnE3WY (copyright: MAXLab Freiburg).

---
Jean-Louis van Gelder has been one of three directors at the Max Planck Institute for the Study of Crime, Security and Law in Freiburg since 2019. The psychologist (doctorate 2012) and lawyer (doctorate 2009) heads the Depart­ment of Criminology.
The Max Planck Institute for the Study of Crime, Security and Law is the leading European research center in the fields of criminal law, criminology and public law. The research conducted at the Institute is comparative, interna­tional and interdisciplinary. The Institute is part of the Max Planck Society. The high level of basic research con­ducted there is reflected not least in the 29 Nobel Prizes that Max Planck scientists have received since the founding of the society in 1948.