Award for Sophie-Marie Humbert
Best doctoral thesis in the field of criminal law at Humboldt-Universität zu Berlin in 2022
Sophie-Marie Humbert, former doctoral student in the Department of Criminal Law, received an award for the best doctoral thesis in the field of criminal law in 2022 from the Faculty of Law at Humboldt-Universität zu Berlin. Due to the COVID-19 pandemic, the awards ceremony – which included other doctoral and teaching awards for 2021, 2022, and 2023 – took place in Berlin just a few days ago.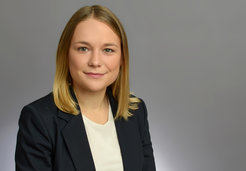 The cornerstones of Sophie-Marie Humbert's doctoral dissertation on surrogate motherhood are an interdisciplinary analysis and an international perspective. In her dissertation, the author uses an interdisciplinary approach to review the arguments currently being used in Germany against permitting surrogacy. Exploring the moral questions that arise in connection with surrogate motherhood, she includes both ethical and legal considerations in her research. In addition, she examines whether an alternative legal approach to surrogacy is preferable to the current legal situation; for example, the legal requirements for living organ donation could also be applied to the regulation of surrogate motherhood.
Sophie-Marie Humbert was a doctoral student in the Department of Criminal Law at the Max Planck Institute for the Study of Crime, Security and Law in Freiburg from fall 2019 to late summer 2022. Tatjana Hörnle, director at the Institute and head of the Department of Criminal Law as well as honorary professor at Humboldt-Universität zu Berlin, supervised her doctoral studies.