On site at the European Court of Human Rights
Max Planck researchers visit Strasbourg
A group of 20 researchers recently had the opportunity to draw inspiration from the work of the European Court of Human Rights (ECHR) first hand and up close.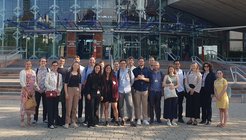 Ingrid Derveaux, Secretary General of the European Judicial Training Network (EJTN), had prepared an interesting agenda that saw the researchers first attend a public hearing before the Grand Chamber. They followed the case of Fabbri and Others v. San Marino (applica­tion nos. 6319/21, 6321/21 and 9227/21), in which the applicants, injured parties to criminal proceedings, alleged a violation of Art. 6 (1) (right to a fair trial) of the European Convention on Human Rights (ECHR), arguing that they had been prevented from having their asso­ci­ated civil claims determined due to inaction on the part of the au­thor­i­ties that led to the prosecution becoming time-barred (see the recording of the hearing: https://www.echr.coe.int/w/fabbri-and-others-v-san-marino-nos-6319/21-6321/21-and-9227/21-#).
The insightful proceedings before the Grand Chamber were followed by a meeting with a member of the German Section of the Court, who explained structures and mechanisms and answered many questions. Having been invited to the ECHR by Anja Seibert-Fohr (Vice Chairperson of the Board of Trustees of the MPI-CSL and the German judge at the ECHR), the ensuing meeting with her was an obvious point on the agenda and involved a lively discussion of recent developments in jurisprudence, the challenges of the day, the work culture at the Court, and insights into the nomination process for judges. All of this presented great food for thought, which was later digested whilst exploring the beautiful city of Strasbourg, debating and reflecting on salient points before returning to Freiburg.