Federica Coppola To Teach Law in Madrid
Researcher appointed law professor at IE University's Law School
Max Planck researcher Federica Coppola has accepted an appointment to teach law at IE Law School in Madrid. Starting in September, she will teach comparative criminal law and law & behavior as a tenure-track assistant professor.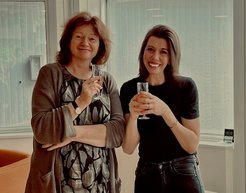 Federica has spent the past two years as a postdoctoral fellow at Germany's Max Planck Institute for the Study of Crime, Security and Law – working at the intersection of criminal law and (neuro)science. Her research interests include criminal law theory, the theory of punishment, criminal justice, restorative justice, incarceration and solitary confinement as well as human/constitutional rights.
"My two years at the Max Planck Institute have been very important in further establishing my research and scholarship by doing it with the availability of excellent resources, both in terms of sources (the library is really unique!) and opportunities to share my work and to network," Federica said at her farewell. "I was allowed plenty of time to travel to conferences and go on research visits, and I forged long-term collaborations with colleagues who visited the Institute. The Max Planck Institute gave me the tools to create an insightful and productive academic experience, and I really sought to make the best of it, also in view of my next step as a professor."
Fortunately, the researcher will not say goodbye to the Max Planck Institute completely: Federica will continue to cooperate with the Freiburg institute as a research affiliate for the forseeable future.