Freiburg welcomes the who-is-who of legal anti-fraud research
OLAF and Max Planck Institute organised major conference
On 24–25 April 2023, the European Anti-Fraud Office (OLAF) and the Max Planck Institute for the Study of Crime, Security and Law (MPI-CSL) welcomed 80 legal practitioners and academics to Freiburg, Germany, for a conference dedicated to legal anti-fraud research.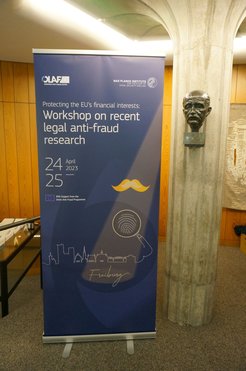 Participants to the conference included the organisers – MPI-CSL researchers and OLAF representatives – as well as members of national associations on the protection of the EU's financial interests / European criminal law, representatives of the EU Member States, and beneficiaries of the Hercule III / Union Anti-Fraud Programme.
The Union Anti-Fraud Programme (UAFP in short) is a line of EU funding that is managed by OLAF on behalf of the Commission to support the fight against fraud at national level. The national associa­tions on the protection of the EU's financial interests/European criminal law form a unique network that has been bringing together academics and practitioners from all over Europe since the beginning of the 1990s.
Discussions and presentations focused on recent anti-fraud legal studies – for example, on the EU anti-fraud legal framework; on procedural rules and on evidence in criminal and administrative anti-fraud investigations; on cooperation and information exchange between authorities. OLAF also updated attendees on the Union Anti-Fraud Programme.
The conference proved an excellent opportunity to bring together institutional actors and scholars. The continuous exchange of good practices and academic research is key to protecting taxpayers' money from fraud and irregularities in an ever-changing environment. Special mention was given during the conference to eucrim, a one-stop platform for legal professionals in the field to access and share information.
The conference was organised with financial support from the UAFP.