KNOW-THYSELF!
Max Planck researcher Isabel Thielmann receives prestigious ERC Starting Grant for project on self-knowledge and moral behavior
Freiburg-based Max Planck researcher Isabel Thielmann has been awarded a Starting Grant by the European Research Council (ERC). Thielmann, who holds a PhD in psychology, receives the €1.5 million grant for her project KNOW-THYSELF – Increasing Self-Knowledge to Promote Moral Behavior.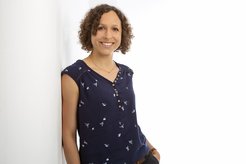 The project aims to study and promote moral behavior such as fair­ness, cooperation, and honesty. To date, research has focused on the situation-based approach of rewarding moral behavior or sanctioning immoral behavior. The new person-centered approach of KNOW-THYSELF seeks to promote moral behavior more comprehensively and more consistently by focusing on self-knowledge – a resource that has been largely untapped until now.
In the moral domain in particular, self-knowledge is often restricted by self-enhancement – the pervasive bias to see oneself more favorably than implied by one's actions. The goal of the KNOW-THYSELF pro­ject, which will be carried out over several years, is to focus on in­creas­ing people's knowledge about their own moral character, which can promote moral behavior and even give rise to long-term changes in personality traits that underlie moral action.
Isabel Thielmann joined the Department of Criminology at the Max Planck Institute for the Study of Crime, Security and Law in Freiburg as a research group leader at the beginning of 2022. Prior to joining the Max Planck Institute, she worked as a post-doctoral researcher in the Cognitive Psychology Lab at the University of Koblenz-Landau. She had previously held an acting assistant professor position at that university. Earlier stages of her scientific career were spent at the Vrije Universiteit Amsterdam, the Netherlands, and at the University of Mannheim, Germany.
At the Max Planck Institute in Freiburg, Dr. Thielmann recently launched a new research group ("Personality, Identity, and Crime"). The ERC Starting Grant secures her several post-doctoral and doctoral positions.
ERC Starting Grants are aimed at talented early-career scientists who are ready to work independently as research leaders of their own research groups. More information is available at https://www.eubuero.de/erc-stg.htm.